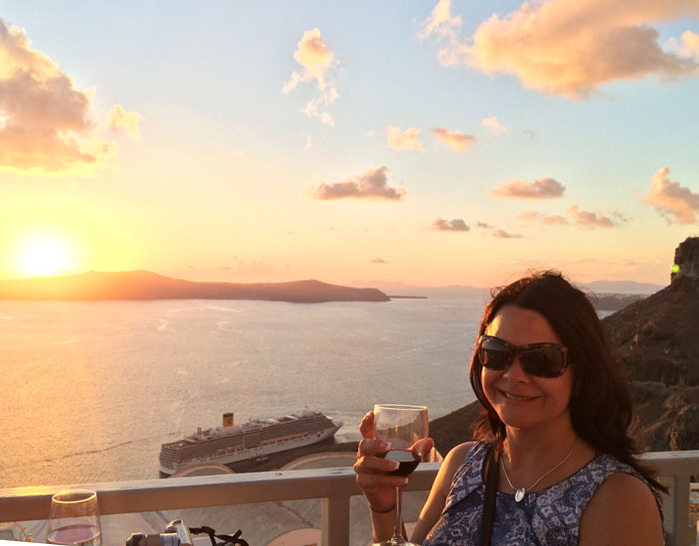 Santorini, an island in the southern Aegean Sea, is about 120 miles southeast of Greece's mainland. The terrain is arid and rocky with towering cliffs over the ocean below, a distinct beauty all its own. Whitewashed buildings and domed churches cover the clifftops with some of the most incredible views in the Mediterranean. There was a massive volcanic eruption, the largest in known history in this location. The weight of it collapsed most of the inner island leaving a giant lagoon surrounded by sheer cliffs, a few islands remained from the one. Because of this history, this location was proposed as one of the locations for the ancient and mythical Atlantis.
We toured the winding cobblestone streets and Skaros, an ancient castle, perched atop a steep summit and well-fortified against pirate attacks. From here we went and visited a winery for lunch and tasting.
Later, Richard and I decided to break off from the group and seek a romantic dinner location overlooking the sea. We found the most incredible spot and were rewarded with a spectacular sunset, with large billowing clouds moving over the island lit up by the brilliant sun. Shades of oranges and pinks danced, highlighted with gold and ever changing. These warm colors lit up the buildings as well. I loved the contrast of all the blues and purples in the shadows. An artists' paradise!
As beautiful as this experience was, what was more important was sharing it with my husband. Our breaking off to be alone and experience this moment together was a gift. It's so important to be intentional in our relationships, choosing to make quality time and to truly connect amidst all the distractions, even good ones! This is what keeps our relationships alive and healthy.
Custom Framed Oil Original 24×40  $5,150
Giclee Print Gallery Wrapped 40×24 $560
Giclee Print Standard 40×24 $540
Giclee Print Gallery Wrapped 30×18 $360
Giclee Print Standard 30×18 $320
Giclee Print Gallery Wrapped 20×12 $215
Giclee Print Standard 20×12 $180
View More from this Portfolio