Through the Fire,
Traveling the Broken Road to Hope and Healing
by Lucy Dickens
Join acclaimed artist Lucy Dickens on her life journey overcoming early abuse and a shattered marriage to finding redemptive healing and a lovingly restored relationship.
Join me at the Desert Foothills Book Festival on October 21st, 2023
I will be participating in the Desert Desert Foothills Book Festival October 21st, at the Holland Center in Scottsdale, AZ. 34250 N, 60th St., Scottsdale, AZ 85266.
I will have my book, Through the Fire, Traveling the Broken Road to Hope and Healing there. Collect your autographed copy. Mark your calendars now and meet over 50 authors in a variety of genres!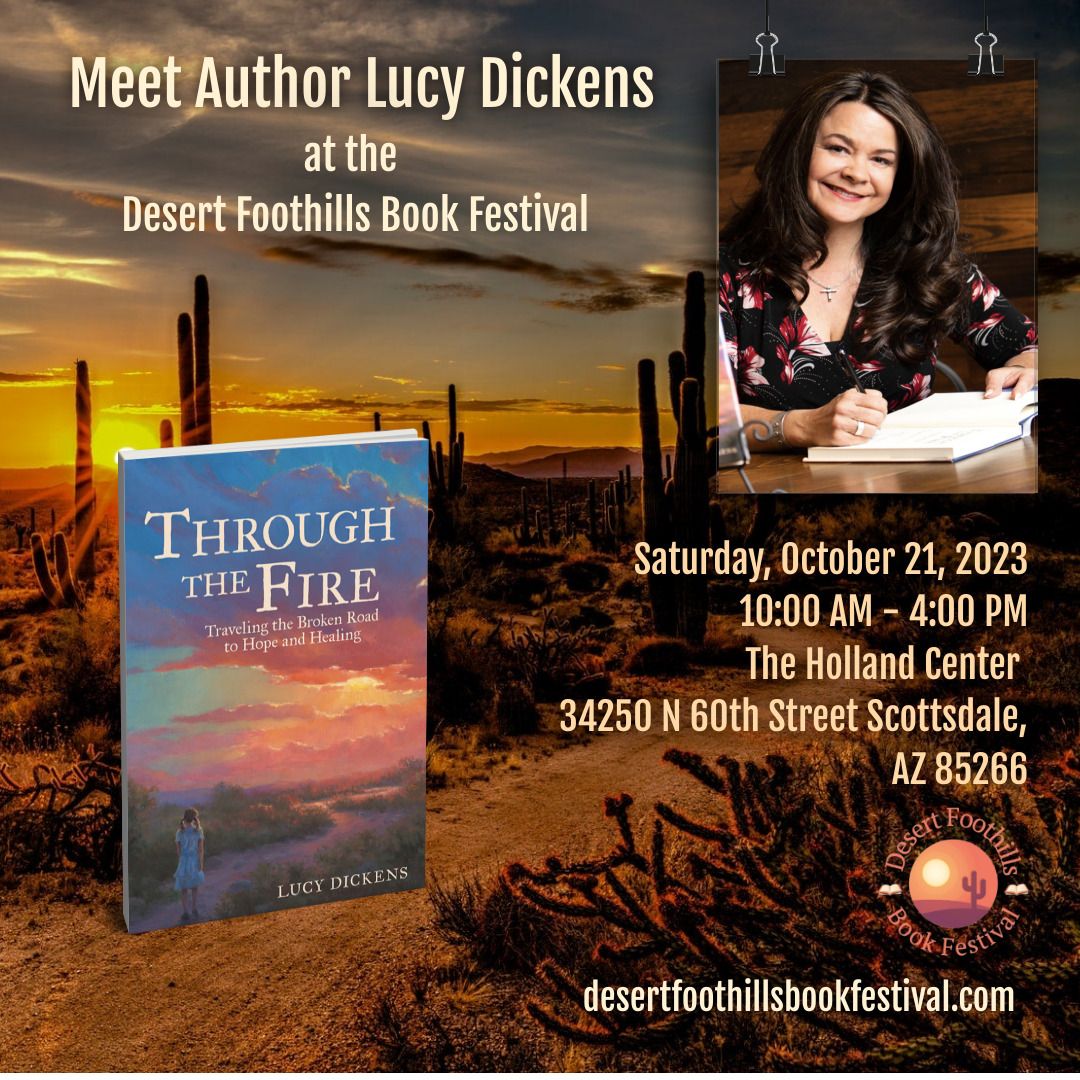 Through the Fire is now available at Holy Land Books & Gifts!
31309 N. Scottsdale Rd.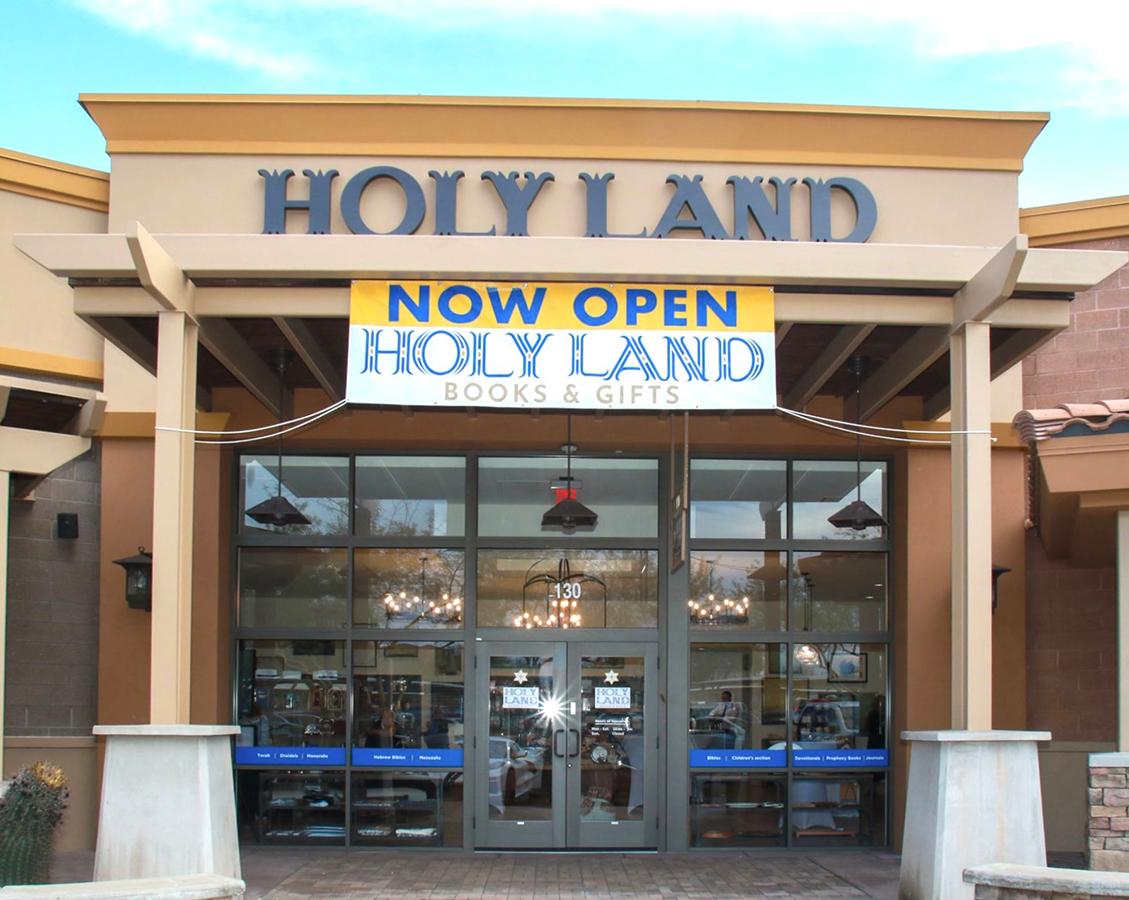 Check out the book trailer for Through the Fire, Traveling the Broken Road to Hope and Healing!
Through the Fire,
Traveling the Broken Road to Hope and Healing
by Lucy Dickens
Join acclaimed artist Lucy Dickens on her life journey overcoming early abuse and a shattered marriage to finding redemptive healing and a lovingly restored relationship.
ABOUT THE BOOK
Imagine what it would be like to walk in freedom, to break through past pain and trauma, to become whole and healed? What if your broken marriage could find strength for tomorrow, hope and healing like never before?
Lucy shares her own broken journey, traveling through the pain and trauma of some of life's most difficult trials – persevering through early abuse, bullying, chronic illness and pain, a marriage torn apart, a life and death diagnosis, and even terrifying natural disasters. This book was written for those who are seeking to become whole again, longing for restoration and clarity, ready to break free and find healing. Is this you? What do you do with your broken heart? Through Lucy's story, you will discover hope and witness the healing power of God's love through Jesus that she experienced exploring her own broken road and path to restoration.
Lucy set out to write her story, isolated in the woods at her cabin, when a forest fire broke out. The fire raged closer and closer as she alternated between fire updates and her writing. Who knew this was supposed to be about the past and the here and now? God knew…he had a plan. After a terrifying night with the wind howling and shaking the windows, the smell of smoke filling the house, she was evacuated with the fire just a half mile away. The title to the book emerged; Through the Fire, Traveling the Broken Road to Hope and Healing.
Let Lucy's inspiring story open your heart and eyes to the healing power of grace and redemption through walking hand in hand with Christ. Rejoice with Lucy at the healing and wholeness found in Him alone. In Him all is made new, in Him nothing is impossible, in Him we find healing and wholeness.
Through the fire is now available to order in soft and hard copy, and eBook through Amazon and my publisher, WestBow Press.  All options will be available at many other book retailers very soon.
Check out this interview from StreetLightUSA about Lucy's book, Through the Fire; Traveling the Broken Road to Hope & Healing from February 2022!
Now available at Holy Land Books & Gifts!
My Book – Through the Fire, Traveling the Broken Road to  Hope & Healing now available at Holy Land Books & Gifts! 
I am thrilled, first, to share with you that Holy Land Books and Gifts has opened in North Scottsdale! What a beautiful space filled with treasured faith books and irresistible gift items and jewelry (remember Valentines Day!). Oh how I have enjoyed shopping there!
Then, I met owner Victoria Angelone, what a beautiful lady with a powerful story. In sharing mine, she was excited to bring my books in AND work on a book signing event!
Mark your calendar for Thursday March 23rd from 3-6 pm.
Collect authentic gifts from Jerusalem. The first Judea & Christian combined gift store in Scottsdale. The Torah, Holy Bibles, biblical theology books and Pastoral teachings with helpful and creative ideas to encourage you as you grow and become more prepared to face life challenges. Unique items for gift giving, childrens & baby gifts. Jewelry, art, home accessories, and personal items to encourage your faith walk.
31309 N Scottsdale Rd (602) 299-2982
Endorsements
"As a pastor, one of my greatest joys is to watch God change lives. Lucy is one of those people who became completely changed when she reached the end of herself and found God waiting there for her. She and her husband, Richard, became solid leaders in the church and their testimony has been an inspiration to so many others. I have full assurance that as her story unfolds, her readers will be encouraged to overcome their own hardships by partnering with a God who specializes in making the impossible possible."
– Dr. Don Wilson
Founder of Accelerate Group and Founding Pastor of Christ Church of the Valley (CCV)
"From riveting stories to life giving truth Lucy invites us into the most intimate places of her journey.  With people chasing every way imaginable through the fire, God has given us a gift with this book. Lucy points us to the true healer – to the only one who can restore – to the only one who can give us the peace we all so desperately seek – Jesus."
– Rodney Cox
Founder of Ministry Insights International
"Through the Fire is Lucy's story. Well, actually, Lucy is God's story of taking the tatters of abuse and making a tapestry of love. Her hope is that this becomes your story too. For all who have been abused, dispossessed, discarded, or shattered, Through the Fire is your path to making meaning out of the pain and beauty from the ashes."
– Mark E. Moore, PhD
Author of Core 52
"What if the pain from your past is actually a springboard for God's greatest purpose in your future? That's what you'll find from Lucy's story. What she endured is unthinkable, but how God used it is unimaginable. This just might be the book God uses to change the trajectory of your life."
– Ashley Wooldridge
Senior Pastor of Christ Church of the Valley (CCV)
"Lucy Dickens walked through a devastating forest fire, protected only by God's guidance and love, in order to bring her vulnerable story of surrender to life. On one level, her book is a page-turner about all the ways she was brought to her knees by heartbreaking abuse; mental and physical illness; betrayal and abandonment; and even a horrific hurricane!
But the truly compelling narrative is the one about Lucy's growth as a spiritual warrior, during which she found the courage to face her brokenness hand-in-hand with Jesus, focusing her efforts on addressing her own issues and entrusting everything and everyone else to God's care. Taking this unflinchingly honest and inspirational journey with Lucy will likely lead readers to strengthen their faith in God's abiding love and to experience the hope, joy and peace that passes understanding. Christians need the message that it's healthy to be honest, transparent, and vulnerable, to let our own darkness become visible, because whoever thinks that Christians are supposed to be perfect and without a history doesn't know Jesus!"
Wendy Boorn, M.C., L.P.C. Licensed Professional Counselor and Author,
"I Thought I'd Be Done by Now: Hope and Help for Mothers of Adult Children Searching for Peace"
Reader Feedback
"Great book so far, easy to read because it feels like Lucy's just talking. So proud of both of you for the transparency and strength to share! Very humbling read. This book will impact lives, and those testimonies are the best ones because it makes you real. Seriously, great book and great testimony! I've read it twice through just to make sure I didn't miss anything. Super easy read, but very convicting in a good way. Thanks to you both for sharing!"
-George W.
"What a wonderful, heartfelt, completely open and honest book. Lucy wrote from the heart and held nothing back. Her faith in God's love is what brought her through all of life's trials and setbacks. Very encouraging and uplifting."
-Sophie K.
"I just finished Through the Fire and loved it. I've known Lucy and her husband Richard since High School and thought I knew them, until reading Lucy's story. Her ability to share at the deepest level is inspiring and helped me look at relationships in a new light. It's a book for both men and woman to use a tool in examining their own lives and being empathetic and caring for others who may be hurting and not even know it. Take the time to read Through the Fire and reconnect with yourself and the ones you love.."
-John A.
"I want to thank you for sharing your story. This book has opened and touched my heart deeply. You will continue to touch lives and show marriages on what is possible. I can't tell you how courageous and inspiring you are, Lucy! This book is true healing for marriages, finding inner peace and strength with Jesus when life's challenges take over, so beautifully good! You are a blessing lady, thank you for your vulnerability for sharing and for the hope you have in others. A must read, especially for the broken hearted."
-Julie K.
"Lucy, I haven't been able to put your book down! Nice work. I'm re-reading and sharing parts with my husband. You and Richard show so much humility to be able to share something so raw and relatable. I love your journey with Christ. He truly is everything and in everything. Every time you quote Isaiah, I think about how he's an artist like you, so maybe that's why you can share his words so easily. Good work, Lucy, and good work to Richard and your daughters."
-April G.
"I love how transparent Lucy and Richard are in Through the Fire. To see them being transformed by the power of prayer is really inspiring to me. I would recommend any marriage going through something difficult to get this book and read it together. Also, I would suggest to apply the daily prayer Richard and Lucy pray every morning as their daily routine. Richard has a chapter in this every husband should read. Powerful story the both tell in this book."
-Luis S.
"I finished your book and I want to thank you for it. I feel God has chosen the timing especially for me. I need to go back and read it in a studious fashion. I am grateful."
-Shirley
"I just finished reading your manuscript. Lucy, thank you for being willing to share your story. I could see myself in aspects of your childhood. I love the way you share how God has brought you through your painful experiences, and what you have learned about Him, and yourself. Your testimony has moved me, as I'm sure it will many others. Wishing you a great success! I know all who read it will be enriched."
-Cindy V.
"Lucy's story is honest, heartfelt and encouraging! She managed to keep some very personal, dark stories from being too heavy on the reader, but yet, still conveyed the deep pain and struggle, followed by the incredible journey and victory through God's love, teaching, protection and grace. So many of her stories parallel my own life and allowed me to connect to this book like no other. This is a beautiful story of God's beautiful love and redemption, and a wonderful read!"
-Linda O.
"Lucy Dickens has written a book with such honesty and vulnerability, yet so full of hope and the miracle of God's promise to love and redeem us. If you've had hurt in your past, or if you're walking through your own fire right now, I pray this book will inspire and convince you to let God lead the way while you work to get through to the other side. It's sooooo worth it!!"
-Christine M.
"This is an uplifting book about a difficult walk through Lucy's life story. It is an easy to read journey of how she found hope, healing, and her faith in God. It is a testament to her courage to not give up and helps lead the reader into their own life review. A wonderful addition for book groups to ponder how we move through life with grace."
-Betty D.
"Great read. Sharing her life story gives me hope and opportunity to know that we are not alone in this walk through life. Sharing God's love and peace through all these difficulties allows me to believe and know where my strength and help comes from as I live in this world."
-Margo O.
"The author shared very personal events in her life that helps the reader think deeply about their own life & experiences. Her prayers & references lead the reader to understand how the Lord moves each life to a greater experience!"
-Karen W.
"Lucy tells what it's like to walk through so much brokenness and come out in the end full of hope and healing. All through the grace of God, she knows how Jesus has come to change her life and can change yours too. It's a read that will challenge you and hopefully change you too!"
-Zach W.
"I loved the book! Just finished it and am so very grateful to you for pouring yourself into the pages. Words that I very much identified with. I have long believed there are no accidents in life and there definitely was no accident I was presented with your book so I may too find healing. I am forever grateful. I have already purchased 2 more copies for friends. Thank you."
-Alana M.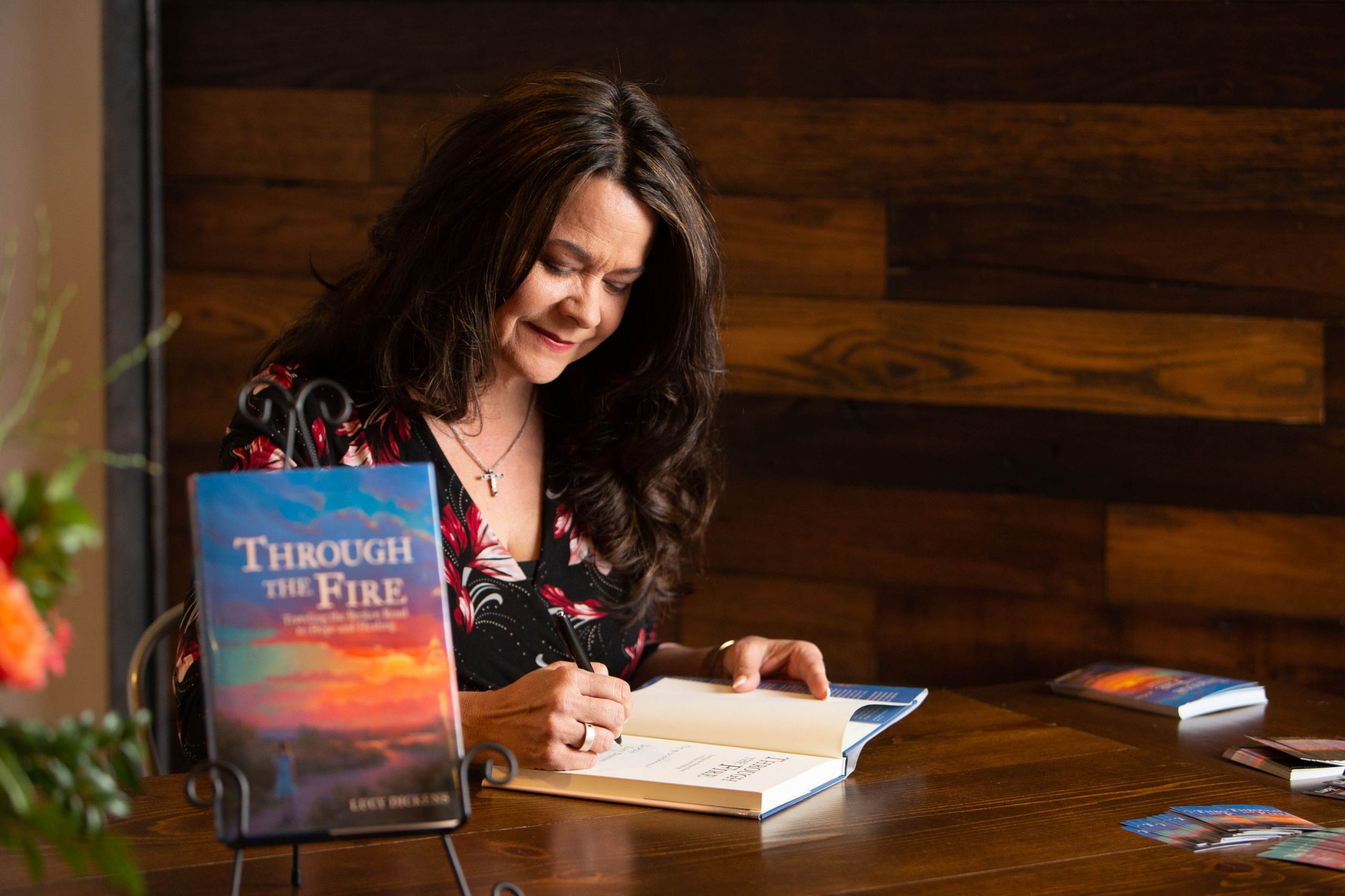 ABOUT THE AUTHOR
Lucy Dickens is an active award-winning oil painter, a "Storyteller of Fine Art". Her critically acclaimed work is collected throughout the United States and abroad, appealing to a wide audience. Lucy has a heart and passion for those who carry the burden and trauma of abuse, or endure broken marriages, her prayer is to bring hope and healing through her transparent approach as she shares her own personal journey. Her refreshingly transparent approach brings hope to many, inspiring others to draw close to God, and experience the healing she has herself received. She and her husband are involved in restorative marriage ministry, private mentoring, and they have led and hosted Bible Study groups in their home for many years. She creates her art and writings in Arizona with her husband, Richard. She is the mother of two wonderful daughters.