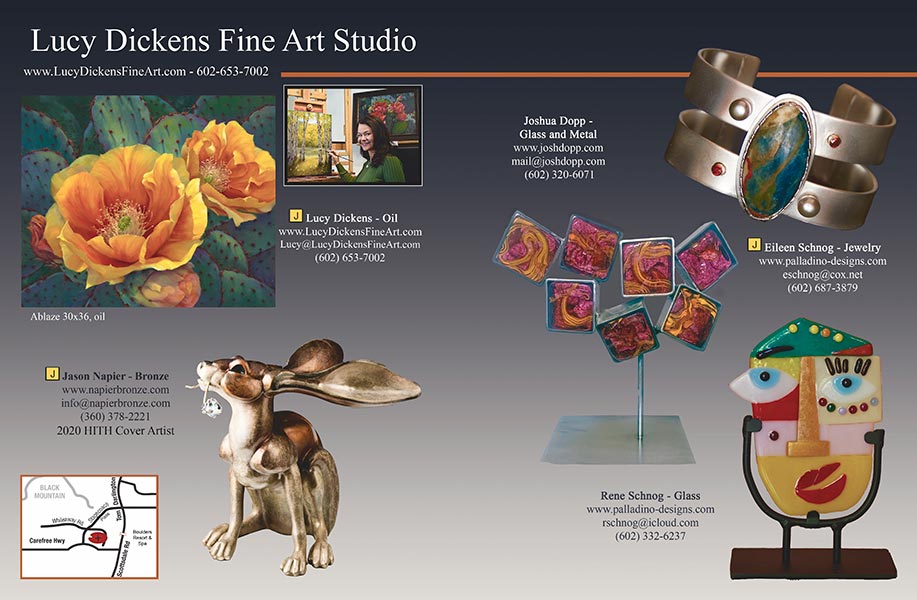 25th Annual Hidden in the Hills
Artist Studio Tour & Sale
November 19-21 | November 26-28
Now in its 25th year, the free, self-guided open studio tour offers seasoned collectors and art enthusiasts a rare chance to collect and observe artists at work in their private studios.
Join Lucy Dickens (oil), Joshua Dopp (glass and metal), Eileen Schnog (jewelry), Rene Schnog (glass), and Jason Napier (bronze) at this prestigious studio on the tour.
We look forward to welcoming you to this year's show and are excited about sharing our new creations!
Visiting the Studio
Explore Lucy Dickens' gallery and working studio set in the hills of picturesque Carefree, Arizona! New inspiration abounds becoming paintings filled with light and hope. Each visit to her gallery offers something new to experience, come check it out.
Open by private appointment, schedule yours today!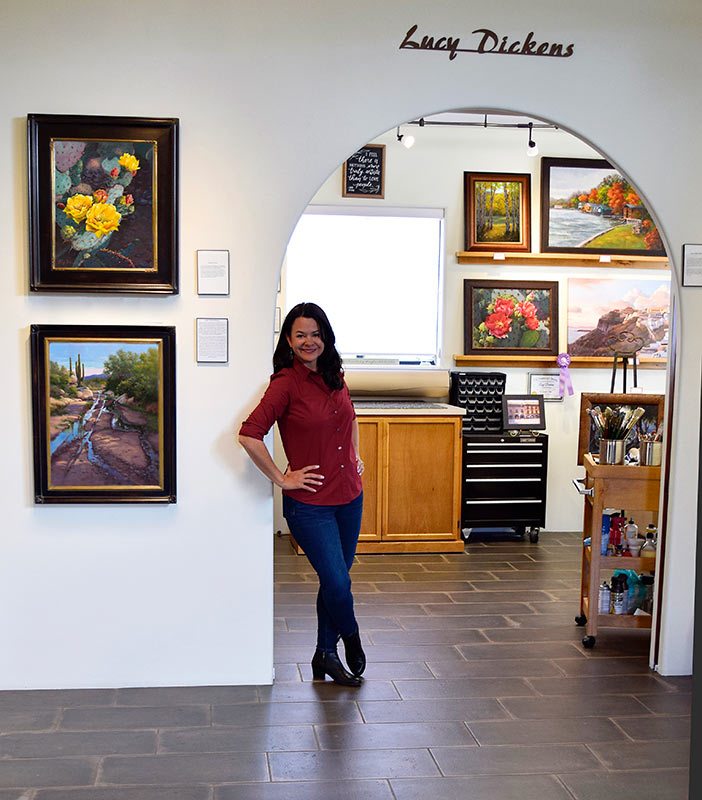 Current Exhibitions
52nd Annual Mountain Oyster Club Contemporary Western Art Show and Sale
Both originals, (from top to bottom) "Morning Adventure" and "The Sun Broke Through" are currently being shown in the 52nd Annual Contemporary Western Art Show & Sale at the Mountain Oyster Club in Tucson, Arizona.
The show will be held on Sunday, November 21, 2021. Tickets are $50 per person and must be purchased in advance. Admission is limited, so early ticket purchases are recommended. Please contact Alisha Taylor, Art Show Director, for information on ticket purchases and art purchase inquiries.
Mountain Oyster Club
Art Show Intent to Purchase
6400 E. El Dorado Circle, Ste. C100
Tucson, AZ 85715
DIRECTIONS