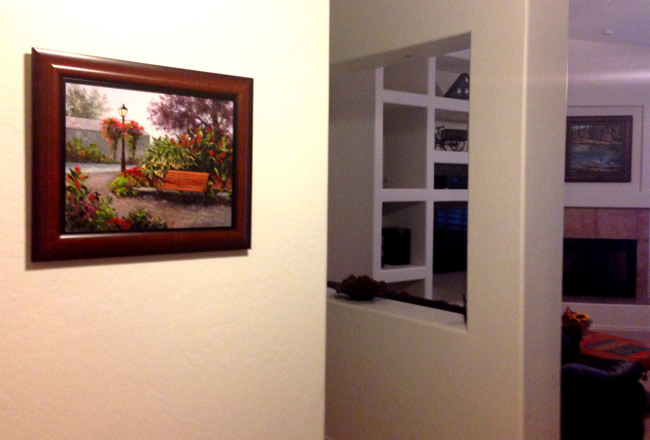 Doug and Linda Virgil came to my holiday show and acquired Come Sit Awhile. After we met to pick out framing I received a message from Linda:
I absolutely love it, every time I look at it I feel like I could just step inside and sit on that bench. I love it because it reminds me of another bench in another place, beside the pond in which my dad loved to fish. I would take him a single yellow rose, his favorite flower, and just sit awhile… so again, thank you.
She has recently completed a heartwarming poem about this memory. I am so very honored that my painting has played a part in capturing such a special memory. Clearly I know that I have painted Come Away With Me just for Linda. Thank you deeply for sharing your heart.
Come sit awhile,
and dream with me
of days gone by and those to be.
Close your eyes, and spread your wings,
set your spirit free.
Take my hand and fly with me
upon a summer breeze,
we'll take a journey together,
amidst precious memories.
Let your mind resound with sweet birdsong,
love and joy be in your heart,
for although I'm no longer with you
we're never really apart.
Come sit awhile sweet child of mine,
Come sit and dream with me….
– Linda Virgil